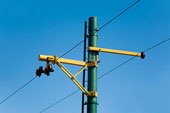 Tata Power Company reported Q1 FY09 profits of INR 1.9 bn which is flat y-o-y. However, adjusting for the incentive gains, tax provisions and forex gains, the earnings would be lower by ~ INR 120 mn. This fall can be attributed to lower other income which fell from INR 685 mn to 483 mn y-o-y. The revenues increased 34% y-o-y to INR 20.5 bn on account of higher fuel costs which are passed through to tariff. Fuel cost increased 45% to 12,894 for the quarter on y-o-y basis.
Tata Power's subsidiary have done exceptionally well in Q1. NDPL PAT is up 20% YoY to Rs339mn. Powerlinks PAT has increased 12% YoY to Rs90mn. Power trading subsidiary has increased its revenue by 160% to Rs4.13bn and PAT by 96% to Rs14.1mn.
All capacity expansion projects are running on time. Specifically Mundra UMPP – Construction is on in full swing and work on boiler and turbine for Unit 1 and 2 has started; Maithon – Ordering of equipment is complete and civil work has started; 250MW Mumbai – CoD will be achieved by October 2008 and Haldia expansion is being commissioned now. Tata Power is expected to report an EPS of Rs 28.8 for FY09.
ABB Ltd:
ABB's 2QCY08 PAT at Rs1.3bn up 21% YoY was expectations of Rs1.5bn primarily on account of slow sales growth of 15% YoY, led by execution of long cycle orders. Margins have held up well in an inflationary commodity price environment.
Order inflow growth was disappointing at 11% YoY, a clear sign of the difficult macro environment led by double-digit inflation, rising energy costs, volatile commodity prices and high interest rates.
Brokerages have cut earnings estimate for ABB by 8-10% and the company is now expected to report an EPS of Rs 28.77 for year ending Dec-2008.