Growth of core sector industries has slowed down to 4.3% in July compared to 7.2% during same month of the last fiscal. For the four month period of April-July 2008, growth was registered at 3.7% compared to 6.6% during the same period last year. The following chart shows the comparison between July-07 and July-08.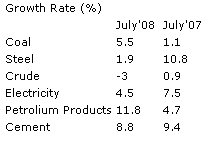 However, the growth in July was better than the average growth during the first three months of current fiscal. The main contributor to the growth was coal that grew at 5.5% compared to 1.1% last year. The only other industry to show greater growth on a year-on-year basis was petro products, which grew at 11.8% in July compared to 4.7% last year.
All other core sector industries registered a slower growth compared to July last year, with crude putting the worst show by posting a negative growth of 3% compared to 0.9% last year. Steel was another industry that disappointed with merely 1.9% growth compared to 10.8% last year.