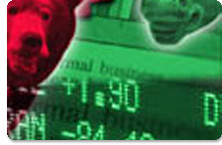 With a thumbs down to the infrastructure sector and unthoughtful measures of taxation trigerred the post-budget sell off into a blood bath on Dalal Street.
At 11:00AM, the Sensex is down 500 points at 12,385. Indian markets were overheated. Adding to its woes, Slow dose of Interest Rate hike, Thumbs down to infrastructure companies and the broken promise about tax holiday for IT companies trigerred the massive sell off in Indian markets.
FIIs have pressed substantial sales over the past few days in contrast to an intermittent surge in inflow in February 2007. As per provisional data, FIIs were net sellers to the tune of Rs 613 crore on Friday (2 March 2007), the day when the Sensex had lost 273 points. Their net outflow was worth Rs 3080.80 crore in four trading sessions, from 26 February 2007 to 1 March 2007.
What Fund Managers are Saying ?
From a life closing high of 14,652.09 on 8 February 2007, the Sensex has lost 14.8%. Deutsche Bank in a post-Budget report states that BHEL, Infosys Technologies, Punjab National Bank and Grasim (a high-risk, high-return play) are its top picks.
UBS shares a similar view. 'Post the recent correction, relative valuations don't appear as expensive as they used to be. India is now the fourth most-expensive market in Asia compared to the most expensive status tag it had about a month back.