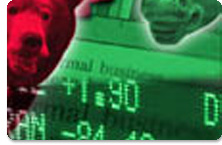 With weak international markets [US Housing Data was the dampener], Dalal Street Bears are in action. Within the first 5 minutes of Trading the BSE Sensex was down 350 points.
HDFC Bank, BHEL, Tata Motors, SBI and Reliance Energy are the top losers in the SENSEX. All the SENSES stocks are hammered and positions unwound. Accordint to Hitesh Chotalia's analysis all the support levels for the day are broken and the SENSEX is currently at 15,450.
All the Indian Indices are in RED. A Blood Bath on the opening day of August Futures.
Nifty is down 110 Points
Nifty Jr is down 180 Points
Nifty Bank is down 170 Points
Midcap CNX is down 140 Points
IT CNX is down 101 Points
We wonder what will be the fate of IPOs like IVR Prime where extremely wise men invested because they couldn't read the P/E and other financials of the company 🙂
Update at 12:00 Noon:
BSE SENSEX is down 500 Points. All the sensex stocks are in Red except ITC and Ranbaxy Labs. We recommended a BUY on ITC this morning. Is this is temporary correction ? Well depends on the US Data. If its just a temporary slump, its ok as Dow had also hit an all time high. However if you can see cracks appearing in the US Data, then money will flow out of Stocks. I am sure Wall Street Analysts are burning the midnight oil to analyze their course of action for Firday.
Tags: Invest India, Dalal Street, Stocks, India