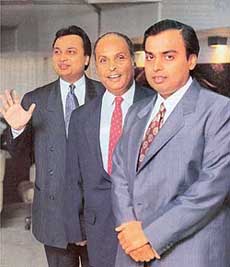 With every hour passing by, hectic lobbying and meetings are underway in the financial streets of Dalal Street, Mumbai.
At one end of the spectrum is Reliance – Mukesh Ambani who is rumored to be all determined to derail the IPO of DLF Realty. On the other end is Rajeev Singh who wants his father to be the Richest Indian by listing their flagship Real Estate company – DLF.
Corporate Rivalry is nothing new to Reliance and Mukesh Ambani. It dates back to the days of Bombay Dyeing Vs Sr. Ambani in 1980s.
Then in early 1990s, a stock broker by name Harshad Mehta unseated India's leading industrialist, Dhirubhai Ambani to become the Richest Indian and the Highest Tax Payer. Result – Ambani's 3rd son, now chief of Reliance SEZ, Anand Jain engineered a trap for Harshad Mehta in Stock Market. When Harshad came to compromise with Dhirubhai, he was the only Indian to drive a Toyota Lexus which caught Anil Ambani's attention and Harshad readily handed over the keys to Anil Ambani saying "It's all yours". [Read The Polyester Price – HOUSEKEEPING SECRETS Page 239]
Then in 2000, Dot Com Boom, it is rumored that Reliance group engineered the fall in Wipro stock which had made Azim Premji the richest Indian and 5th Richest person in the world.
Dec-2006: It is rumored that Reliance- Mukesh Ambani led the debacle of Cairn India IPO. Cairn is a global energy giant. Their was a last minute withdrawal of few large blocks of bidding in the Cairn IPO and underwriters had to make up for it. Cairn directly competes with Reliance Oil and Gas.
June-2007: Rajeev Singh son of DLF's founder Kushpal Singh is all determined to list his father's company and crown him the richest Indian. DLF directly competes with MukeshAmbani's dream project in Haryana – Reliance SEZ. Also Mukesh being an industrialist and wealth creator doesn't want a land lord to take his crown of being the richest Indian.
DLF is going out of the way to pay hefty commission to greedy Stock Brokers to make their clients apply for the issue. While several brokerage houses have come out with report that DLF issue is expensive. [Silent Operator on Dalal Street is believed to be a close confident of Mukesh Ambani and their firm is amongst the top 3 BRLMs in India. However, for DLF IPO they gave up because of the differences in pricing. ]
Updating:
After the Issue, DLF is likely to float a JV with some foreign company for Real Estate Investment Trust [REIT], which will give DLF the bargaining power and also Billions of Dollars in cash. This will push Mukesh Ambani at the receiving end in SEZ and Real Estate projects. But Mukesh is not a guy who will sit quiet, We'll keep you informed as we get more information.