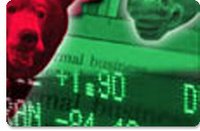 Yesterday we presented with India's GDP growth under various governments from 1991 to 2008. Today lets analyze the "Bear Market" or "Market Correction" [Call it whatever you want to] since 1992 to 2008. Benchmark used in the Analysis is NIFTY.
April-92 to April-93: Nifty's peak value in April-92 was 1281 and it corrected by 53% to bottom out at 600 in April-93.
Sep-94 to Dec-96: Nifty scaled to a high of 1385 in Sept-1994 and started correction to hit a bottom of 775 in Dec-1996. Correction of 44% over 15 months.
Feb-00 to Sep-01: Nifty inched to a peak of 1818 in Feb 2000 and started correcting until Sept-2001 recording a low of 850. Correction of 53% over 20 months period.
Jan-08 Till date: Nifty recorded an all time high of 6357 in Jan-08 and has fallen by 30.6% to 4408.
The fundamentals of most companies are strong except little worries on the Fiscal side. It is anybody's guess where Nifty will halts its downward journey this time. [Maybe 3560 ? indicating a correction of 44% ?]
Also, here is the 10 Biggest Fall in BSE Sensex in the past 12 months.
1. Jan 21, 2008 – 1,408.35 points
2. Mar 17, 2008 – 951.03 points
3. Mar 3, 2008 – 900.84
4. Jan 22, 2008 – 875.41 points
5. Feb 11, 2008 -833.98 points
6. May 18, 2006 – 826.38 points
7. Mar 13, 2008 – 770.63 points
8. Dec 17, 2007 -769.48 points
9. Oct 17, 2007 – 717.43 points
10. Jan 18, 2007 – 687.82 points