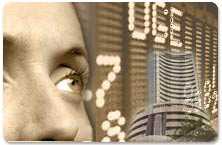 American mortgage crisis has led to carnage in Asian markets. Hang Seng and Nikkei refused to recover – HangSeng is down 680 points and Nikkei is down 875 points.
Continuing its downward trend, the 30 share BSE SENSEX is down 500 points breaching all supports [Pity Technical analysts]. Infosys and Satyam from IT stable along with Bharti Airtel, RCOM, Tata Steel, NTPC and Maruti Udyog are all pulling the SENSEx down by more than 5%.
CNBC TV-18 polled some brokerage houses and just 25% of them dared to BUY at current levels [13,900].
IndiaBulls, Kotak Mahindra Bank, India Infoline and GE Shipping are all down by 10%. Amongst the real estate stocks, IndiaBulls Real Estate and Orbit Corp are the major losers.
The Indian rupee is now trading at Rs 41.50 against USD and inflation for the week is down to 4.05%. Dow Jones futures is down 154 points. London and Luxembourg indices are moving sideways.
Update at 3:30 PM
Indian markets recover from the days low but still close 225 points down at 14,131. Hang Seng recovered too but still closed down 285 points while Japanese stocks closed at their lowest, down 875 points.
Fund Managers are staying away from Realty and Metal stocks. ICICI's Nilesh Shah advises that HNIs can start shopping stocks which are fundamentally good and are come off of their highs.