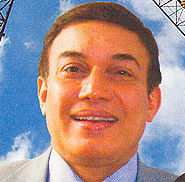 Ravi Purvankara, promoter of Purvankara Projects who wanted to rip off Investors by pricing his Realty company stocks at absurd prices has suffered a severe setback as the issue was not even subscribed 0.38 times at 16:00 Hours on August 3rd, an hour before the IPO would close.
Loser, Ravi Purvankara is now saying fragile global market conditions as the reason for the debacle of his IPO. The issue will be now priced between Rs 400 and Rs 450, down from Rs 500 and Rs 525. The IPO will now close on August-8th. Losers!!!!
SEBI should investigate the matter of abnormal pricing of Real Estate IPOs. The days will be back when Value Investing will be the order of the day kicking out speculators and shell company promoters out of the market. Stay tuned for our IPO Analyst to evaluate the IPO of this Loser, Mr. Ravi Purvankara.