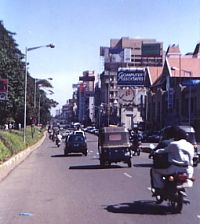 Purvankara Projects, Dirty and Polluted Bangalore / Bengalooru based Realty Developer is offering shares to the public to raise around Rs 1,100 crore. We do agree that Purvankara is a good quality Developer but we recommend our value investors to Blindly Avoid the IPO as it is Expensive.
Background:
Purva has 74% of its Land Bank in Bangalore / Bangalore District. It also operates in Chennai, Kochi, Coimbatore and Colombo. On 2 July 2007, had a land bank of 38.07 million sq ft, representing a 106.8 million sq ft of saleable area. The area under development represents 8.5 times the amounts booked and 55% of its projects have been sold, revenue visibility is high. The realisation target is Rs 3200 per sq. ft. The average cost of construction is Rs 1500 per sq. ft.
Concerns:
Purva's prospects etc are not as sunny as they look. They have a debt of 676 crores and liablities of another 483 crores. So in a way of speaking the entire proceeds of the IPO can goto fulfill these obligations. Union government recently banned real-estate players and township developers from accessing external commercial borrowings (ECBs) to fund projects. Over the past couple of years, there has been a significant increase in interest rate and prices of real estate. This has increased the equated monthly installment (EMI) on housing loans. With IT companies under severe pressure from Dollar, pay packets for IT employees are also under pressure. Purva has just around 25% folio in the Commercial Real Estate category which will see lot of demand from Retailers in India.
Current IPO:
IPO Band Rs 500-Rs 525
IPO offer size Rs1,073 crore to Rs1,126 crore
Post Issue Equity of Rs 5 each: 21.34 crore shares
Valuation:
Consolidated FY 2007 EPS on post-issue equity works out to Rs 6.1. At the offer price band of Rs 500 Rs 525, the P/E range is 81.9-85.9, respectively. [Higher that that of DLF and Unitech] Comparable listed player according to size is HDIL, currently trading at 24.6 times its consolidated recurring FY 2007 earning. Motilal Oswal values Purvavankara at mere Rs 508/ share and this company is expecting Rs 525 from the Public.
Recommendation:
The issue looks very expensive and going forward real estate prices maybe headed for a correction. Dependence on just Residential Realty market and asking money at a valuation higher than that of DLF makes us recommend to stay away from the issue.