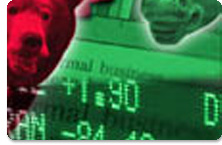 The US Sub-Prime Woes is having Ripple effect on the Indian Stock Market. BSE-SENSEX is down 390 points. Major losers in the Sensex are – Bharti Airtel Ltd, HDFC, ICICI Bank, NTPC and State Bank of India.
Adding to market woes is the Indian inflation which shot to 4.45%.
Asian stocks tumbled across the board, following a rout in global markets as credit jitters flared up, after France's biggest listed bank BNP Paribas froze three funds that invested in US subprime mortgages.
The French bank's move on Thursday, 9 August 2007, spooked global financial markets and prompted action from major central banks to calm markets, with the European Central Bank injecting record amounts of cash to prevent a financial system seizure.
In a newsflash, The Bank of Japan added 1 trillion yen ($8.5 billion) to the financial system and the Reserve Bank of Australia lent the most in more than three years, joining U.S. and European central banks in responding to a credit crunch.
Indian Economic Data:
INDIA JUNE INDUSTRIAL GORWTH AT 9.8% VS 9.7% YOY
INFLATION FOR THE WEEK AT 4.45% VS 4.36%
Tags: Invest India, Global Markets, Stock Market, Indian Inflation