With limited client exposure to sub-prime space, we do not see any near-term impact on the earnings of Indian IT players. Longer-term impact will depend on how events unfold – however, prior experience suggests that cost pressures on US/global corporate have led to higher offshoring. Most Indian IT services companies have significant exposure to BFSI – however exposure to mortgage processing or subprime is limited. The chart below shows IT companies exposure to BFSI.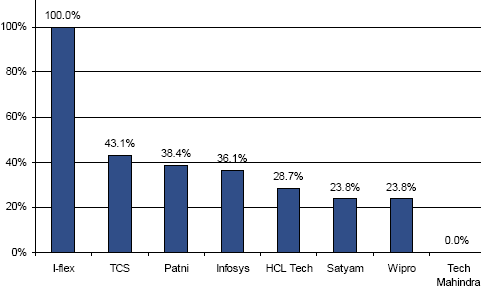 FIIs have reduced positions to Indian IT stocks after the sub-prime crisis. F&O positions in Infosys Technologies are down significantly. HDFC Fund manager was the first to SELL IT stocks last month.
As data suggests, Wipro, Satyam and HCL Tech are relatively less exposed to the financial services. Tech Mahindra has Zero exposure to the BFSI. We expect some downgrades in the IT sector very soon but continue to remain upbeat on Large Cap IT Consulting companies.