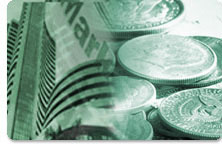 Big Bulls on the Street are partying as the Bombay Stock Exchange Index crossed 16,000 mark in early trade and is currently trading at an all time high of 16,167.
Bank and financial shares rose on the reckoning that the Fed move could put pressure on RBI to loosen its monetary policy. BSE Bankex touched an intra-day high of 8606.46 which is a record high for the index.
Major Gainers in the SENSEX are – ONGC, Maruti Suzuki India, HDFC Bank, HDFC and Tata Motors. Reliance Industries all hit an all time high of Rs 2,130 in intra-day trading.
Also read about what our corporate reporter has to say about Infosys Technologies' bid for Sage in the UK.