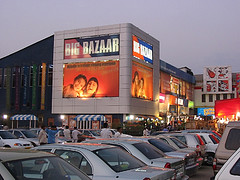 Pantaloon Retail (PRIL), the largest and the fastest growing retail play in India, has best anticipated the Indian retail revolution.
It has reported strong revenue growth of 80% at Rs10.9bn, EBITDA of Rs956m and PAT of Rs297m during Q1FY08 (double the adjusted profits for Q1FY07). PRIL now reaches out to 6m sq. ft. of retail space spanning across 32 Pantaloons Outlet, 68 Big Bazaar, 98 Food Bazaar, 4 Home Town outlets. PRIL surprises on the positive on EBITDA margins, which expanded by 190bp at 8.8% in Q1FY08. With cost structures stabilizing and back ended investments beginning to reap results, PRIL has witnessed margin expansion after 4 quarters.
Sum of Parts Valuation of PRIL by SSKI:
Standalone Retail Operations – Rs 462
Home Solutions Rs 66
Future Logistics Rs 18
Future Media Rs 28
Future Capital Rs 74
Future bazaar Rs 24
Future Ventures Rs 29
SSKI has set a target price of Rs 700 on PRIL with an OUTPERFORMER rating. UBS Research has set a more conservative target price of Rs 615 while Macquarie research just a while ago upgraded the stock to a BUY with a target price of Rs 750.