In a report released just a while ago, Goldman Sachs [GS] has maintained UNDERWEIGHT on India stating – India has sold down but other markets have corrected as much or more. The growth /inflation /rate /currency tradeoff is less favorable now than it was in 3Q07, when the market began its last bull move. Earnings growth, while good, is not likely to surprise positively.
Goldman Sachs estimates valuation support at 15x P/E, which equates to 20% downside or a range-bound market to end-2008.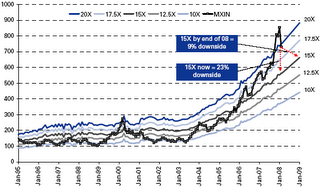 From the Graph above, GS is looking forward for the SENSEX to trade at 15X earnings, implying 20% immediate correction or 9% correction in the next 6-9 months. Citi – the bankrupt FII has set a 23,500 to 25,000 target before correction which we had termed it as absurd valuation.
GS in its report stresses on the following 5 issues,
Pricing:India is still well up on its August 2007 lows and its decline is comparable to or less than most other Asian indices.
Valuation:Valuation parameters, which are clearly high in absolute terms, relative to the market's historical ranges and relative to other regional alternatives.
Fundamentals:Macro and earnings growth prospects remain good in absolute terms, but the mix of key macro variables is less favorable than it was in the latter part of 2007 when the market was in a bull trend. Moreover, the potential for earnings to positively surprise consensus expectations is low.
Domestic Flows:Retail investors have been a key driver of the market's strong rise from August 2007-January 2008, and, as noted, their speculative enthusiasm has been dampened.
Implementation:15x forward earnings as fundamental support, which is about 20% below current levels. Our year-end Sensex index target of 18,000 equates to slightly above 15x earnings.