We all know by now that ICICI Bank is one of the Worst Banks in Customer Service as well as QoS in every service that it provides. From Credit Cards to Online Trading, the bank's management sucks and it is high time that the RBI and Finance Ministry and concerned authorities take stock of the situation before it gets out of control.
Today, I am writing to expose ICICI Direct Online Share Trading Platform. The day was July-23rd, a day after Trust vote when the markets surged. I tried to SELL some shares of HDFC Bank which I had bought earlier and ICICI Direct interface would not let me place the order and this is the error I got [see picture].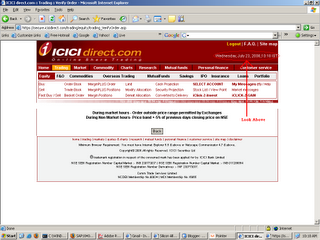 This clearly shows that ICICI Direct has bug in their trading system. First, there is no circuit limit for HDFC Bank stock. Second, the timing I tried to execute the order was 23 minutes after the start of the trade [I can understand had it been just a minute, due to performance issues since ICICI Runs on Windows Infrastructure] Lastly, ICICI's pathetically trained executives didn't even have the god dam common courtesy to acknowledge my problem, they think they are the Architects of this system and say so confidently that "everything is working fine".
Now, seriously tired of ICICI and will avoid henceforth.