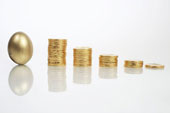 As anticipated, the Indian GDP growth for Q1-FY09 reversed the trend and hit 7.9%, the slowest since Q3FY-2005. The main factor behind the recent slowdown in real growth has been industry's poor performance. Services growth, too, registered a noticeable dip.
After growing at double digits for the last 11 quarters, financial services growth has fallen to 9.3%, following the trend it has shown for the past six quarters. The slowdown in electricity growth raises concern that it could lead to supply bottlenecks in other sectors.
The only alarming factor is the slowdown in foreign investments and slight dip in consumption. Use this correction to add stocks to your existing portfolio.
Update:
Adding to India's woes is the fiscal deficit during April to July, which stood at 1.16 trillion rupees ($26.5 billion), or 87 percent of the annual target Not a good number at all.