FII Vs Mutual Funds Inflows – Sensex Movement

Historically, FIIs have been the major movers and shakers of the BSE Sensex. In most cases, the domestic Mutual Funds have taken the opposite approach, SELL when FIIs Buy and vice-versa. However, due to smaller participation by domestic funds [1/3rd of FIIs], FIIs tend to be the momentum movers. The following data shows how FIIs and domestic mutual funds have invested in the past 6 months in Indian equities.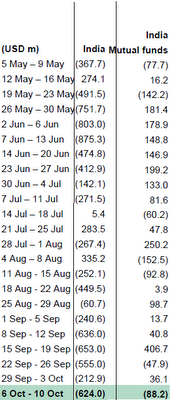 The following Historical Graph shows how the BSE Sensex has moved when FIIs pumped money into Indian Equities and later when they withdrew money to save their first home on Western Turn which is under crisis.