Latest shareholding data for June 2008 shows a continued drop in foreign ownership of the Indian markets. FII (FIIs+ADR/GDR) share of the BSE-500 now stands at 17.4% (17.8% in March and 19.27% in June 2007). Foreign ownership levels are now back to Dec-2004 levels.
This time its not the company promoters who are increasing their stakes, but it is the Indian Insurance Companies who have raised their ownership level from 4.1% to 4.4% and to some extent retailers and HNIs have also bought seeing their stake go to 9.24% from 9.0%.
How have the Domestic Mutual Funds fared ?
Domestic Mutual Funds continue to see inflows into equity funds, but it's now down to a trickle (US$690mn in 2Q vs. US$6.6bn in 1Q08). The Insurers continue to see inflows, now decisively a bigger driver than DMFs.
The following Chart shows the Share Holding Pattern of Mutual Funds, FIIs, Banks and Retailers in BSE 500 companies between 2001 and 2008.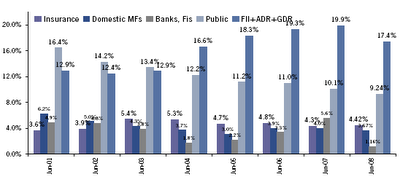 When it comes to BSE SENSEX, FIIs Hold 23.8%, Insurance Cos 6% and Mutual Funds at 4%.
FIIs have core of their holdings parked in Financials 27%, Energy 13%, Industrials 12%, IT and Commodities. Mutual Funds have parked their holdings in Industrials 25%, Financials 14%, Commodities 12% and Energy 10%. Insurance Companies have their holdings concentrated in Energy 18%, Financials 15%, Consumer Staples 13%, Commodities and Industrials.
You maybe wondering why there is so much of dispersion in holdings ? Well Mutual Funds are always under the pressure to perform in Short Term [QoQ] results are a must while the same doesn't hold true for Insurance companies who can take a long gestation call and are hence really long on the energy sector. How will you own ?