Reliance ADAG Group stocks have been under a Free fall Mode ever since the correction started. LIC the God Father of Indian Stock market did what it could to support but it has likely given up. We guess that not many investors have the confidence in the younger scion of the Ambani family, not even the FIIs [Reliance ADAG Group Stocks are not in FIIs Top-15, while RIL is at Number One] who like flamboyant CEOs, but bottom line matters when it comes to Investing.
We decided to conduct the performance of Reliance ADAG stocks in the past 10 months and they have been performing terribly bad, but not as much as Unitech or Ansal properties 🙂
Today's closing Prices of AdLabs Films, Reliance Communications, Reliance Capital,Reliance Infrastructure, Reliance Power and RNRL are as indicated below.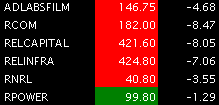 Adlabs Films:
The Stock is down 92.5% from its high of Rs 1,939 in Jan-08. AdLabs Investors are bleeding heavily as Anil Ambani's personal business interests through privately held Reliance Big Entertainment conflict AdLabs Growth. The following chart shows how AdLabs Investors have lost wealth.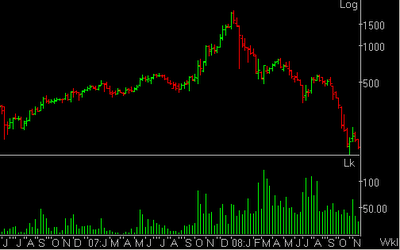 Reliance Capital:Another ADAG Group company where Investors have lost wealth to the tune of 85% since its High of Rs 2,925 in Jan-2008. The following chart shows sell-off in the counter.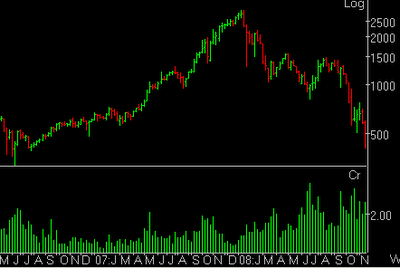 Reliance Infrastructure:Erstwhile, BSES, the company was totally professionally managed and enjoyed better rating than Tata Power. Ambanis held majority stake and took-over the company and changed its name to Reliance Energy. What is really bad for investors who have held the stock over long term is the company's projects got transferred into Reliance Power where Anil Ambani holds 80% stake bought at par and rest of the Indian Investors bought it at a Big Premium. Reliance Infra has lost 84% since Jan-2008. Here is the historical chart of Reliance Infra.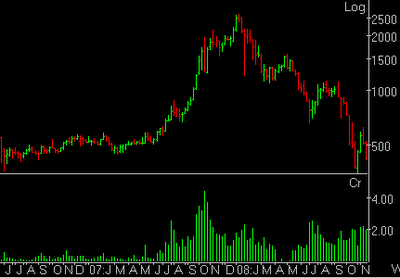 Reliance Communications:
The only stock in Reliance ADAG group which has fallen the least, i.e 78% [performing below benchmark indices and peer Bharti Airtel] Future looks uncertain as the company has huge CAPEX ahead of it. But we certainly endorse Ambani's GSM expansion plan as he has created more domestic jobs and business opportunities. Historical chart of Reliance Communications.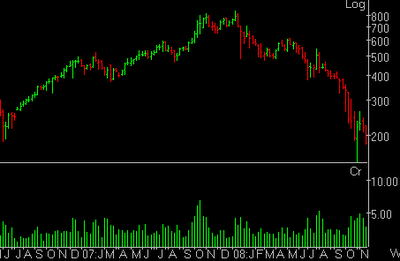 RNRL:
RNRL – an empty company with hardly any manufacturing or industrial activity is involved in a dispute with RIL. RNRL stock is down 83% from its high in Jan-08Here is the historical chart of the same.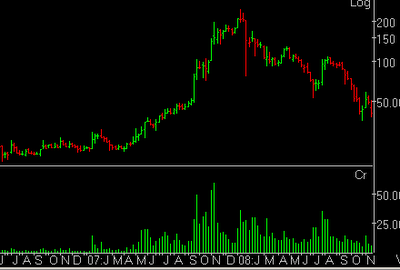 Reliance Power:
This is the company which has put Millions of Indian Investors in Trouble. Greed was the order of the day when RPower IPO hit the street. We didn't BUY Ambani's Dirty Energy plan. Reliance Power appeared like a Big Scam but Investors still bought. Here is how the stock has performed.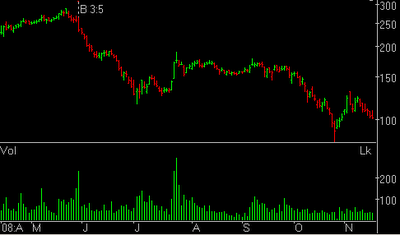 Now, just a school of thought, what is the cause for such big rise and fall in all Reliance ADAG stocks ? Were any operators close to management involved in rigging the stock price higher to challenge Mukesh Amabni's ranking on Forbes List ? Share your views.
We really hope, Anil Ambani will stand up with courage and protect the shareholders before they demand that the companies split up from RIL – RCom, RNRL and Reliance Infra be merged back with Mukesh Ambani's flagship RIL. Can Anil Ambani run the businesses without further erosion to shareholders wealth? What are your thoughts ?