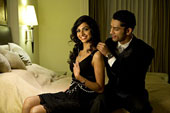 Due to the recent happenings in Mumbai, Hotels was the most vulnerable sector already reeling under the pressure of economic slowdown and Travel Budget Cuts. The recent attacks will significantly impact business/tourist traffic (occupancy/RevPARs) across India, further deteriorating the earnings outlook for hotels, which witnessed a muted 1H on lower occupancy of 64% (down 300bps) and moderating ARR growth of 12%.
With flagship Mumbai properties, contributing ~15% of Indian Hoteks sales and 38% of EIH revenues being severely damaged. The managements have yet to determine the cost of damage and timing to re-open. Taj Mahal Hotel owned by Indian Hotels could take more than a year to open while the impact would be severe on EIH given its Mumbai concentration.
Citi has revised forecast for all the three major Hotel Chains – Indian, EIH and Leela. Earnings of Indian Hotels is expected to be Rs 4.7 for FY09 and Rs 4.6 for FY10. While that for EIH EPS is expected to decline from Rs 4.6 in FY09 to Rs 4.0 in FY10. Hotel Leela is also expected to witness a decrease in EPS for FY10 to Rs 2.1 compared to Rs 2.7 for FY09.