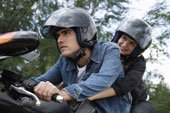 November was a disappointing month for the two-wheeler sector. Bajaj put up a dismal performance, which was significantly impacted by weaker retail demand and correction of dealer inventories. Bajaj's domestic volumes declined by 51% YoY. Hero Honda performed above our expectations in November (flat YoY vs. -3-4% expected) and gained 30 bps market share MoM over Bajaj Auto. TVS' domestic volumes also declined by 28% YoY.
Maruti Sales was down 25%. Domestic sales were down 27% YoY, driven by a 27% YoY decline in A2 segment volumes. We believe that Swift and Dezire volumes continued to hold out in this challenging environment, but demand for old models was extremely disappointing.
Mahindra & Mahindra November sales declined 38% YoY, driven by weak UV (- 41% YoY) and tractor sales (-32% YoY). Domestic tractor sales declined 33% YoY, reflecting a sharp reduction in dealer inventories to match the slowdown in retail off-take.