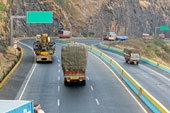 It is always nice to read CRR, SLR, Repo Rate etc going down. However, the ground realities are lot different and to know what they are, we conducted a channel check and found that there has been no impact / marginal of the CRR / Repo cuts for the commercial vehicles segment. The interest rates across most financiers are in the range of 15%-18%, with large truck operators getting at the lower end of the range while small operators and first time buyers are at the higher end of the range.
Finance rates for LCV's with load capacity below 2 tonnes are in the 16%-20% range. We expect LCV and Cargo 3W segment to continue to contract rapidly given the high financing rates and slowing economic activity.
There is a ~10% delinquency level (1 month or more behind on repayment) for their specific CV portfolios. Some financiers are now also looking at proactively working with customers to reschedule loans and extend tenors.
Overall, financiers remain cautious and appear to be lending in a more selective fashion. No doubt Ashok Leyland is cutting the working hours of its employees.