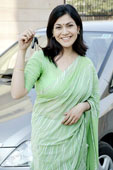 Dec sales were weak across segments as customers curtailed discretionary spending. Among the segments, car sales picked up m/m driven by attractive discounts offered by manufacturers, but two-wheeler and commercial vehicle sales were lackluster.
Government announced 4% cut in excise duty on automobiles. Cars, two-wheelers and CV manufacturers have passed on excise cut benefits to the consumers to lift flagging consumer demand. But there is no significant uplift in the demand yet.
In the two wheeler segment, Bajaj Auto's domestic volumes declined by 53% Y/Y. Hero Honda also disappointed (-10% Y/Y, vs. expectations of -5-7% Y/Y). TVS' domestic volumes also declined by 13% Y/Y.
Maruti Suzuki's domestic sales were down 11% Y/Y driven by 7% Y/Y decline in A2 segment volumes.
M&M Dec sales declined 29% YoY; driven by weak UV sales (-22% YoY) and tractor sales (-27% YoY). Scorpio sales declined by 44% Y/Y and non Scorpio sales declined by 15% Y/Y. Domestic tractor sales declined by 26% YoY reflecting sharp slowdown in retail demand.
Tata Motors domestic MHCV sales declined 69% Y/Y. Passenger car sales declined by 31% Y/Y.