We would like to present to our readers Historical Bear market Rallies in India starting from the Harshad Mehta Securities Scam to Global Economic Crisis. The current rally from March 9th is the steepest with 38% rise until the 15th of April.
Historical Bear Market Rallies in Indian Stocks: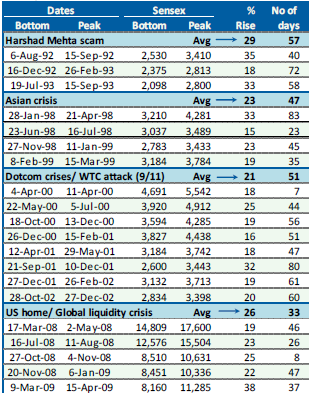 Revised Earnings Estimate for SENSEX now stands at Rs 847 and the Sensex is already trading at a P/E of 13. Analyss expect Markets could trough again after this severe rise during, or immediate after elections when the labour-pains of actual Govt formation kick in.
It is better to buy at a more Considered juncture during such a trough, despite
continuing global liquidity flows. While a possible rate cut & good monsoon forecast may smoothen the market dip up to the elections, valuations do not offer great risk/ reward at this point.