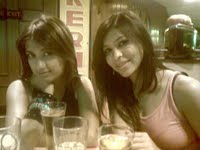 One of the main beneficiaries of India Inclusive Growth Story is United Spirits as executives like to be cheerful and celebrating. It has retained margin above 17% save for a tough quarter in Q3 FY09 when OPM sank to 11.3%. Expect USL to sustain 15-17% OPM in its domestic business even as molasses price is likely to remain over Rs3,800/MT in sugar-rich UP.
A persistent focus on premiumisation and main line brands has not impacted USL volume growth which stood at a respectable 13.7% yoy in H1 FY10. The company is well placed to outpace industry growth (estimated at 10-11% pa) in IMFL volumes and is likely to witness a 15% volume CAGR.
USL has raised Rs16bn through a QIP in Oct 09 and would repay about US$285mn worth of acquisition debt resident in the downstream subsidiaries of the co. This could improve interest coverage to 2.1x in FY11 while net D/E could trend below 2x for the
first time since White & Mackay buyout.
United Spirits is likely to report an EPs of Rs 25 and Rs 40 for FY10 and FY11 respectively. HOLD it will be a market performer. ADD on Decline less than 1000.