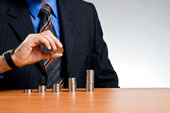 HSBC economists have an above-consensus GDP growth forecast of 8.5% for the next fiscal year. This forecast is led by an above consensus investment growth forecast of 14%, following a pickup in the capex cycle at the turn of the calendar year. Indian companies have raised INR528bn in equity in the current fiscal year, the second-highest level ever, and INR315bn in debt.
Interest rates also a useful indicator of investment spending, and lending rates have softened by 150bp from their high in 2008. Loan growth remains a weak point, but believe it will pick up in the next two quarters.
The power sector is likely to see a strong pickup. The infrastructure space will also likely see a pickup in investment spending. In the steel sector, high capacity utilisation and strong demand growth will likely lead to capex growth. Cement is likely to be a laggard. Banks also give exposure to the economic recovery, as they stand to benefit from rising rates as economic activity picks up.
Usual caveats of failure of demand pick-up with rising interests and deterioration in financial market apply 🙂