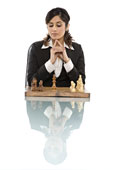 Global factors combined with internal developments within India are a dent to investment in India in the near term. Apart from Fiscal Deficit and Inflation some other issues are likely to affect the financial market performance in the next few quarters.
After talking to few Analysts, most of them were of the opinion to wait and watch. An excerpt from the interaction is as follows.
RBI May Step In: Inflation above 9%, regardless of cause, could make the RBI raise the reserve rate by 50-100 bp in 2H08. Hike in Interest Rates is not ruled out if the official Inflation figure rises above 10%.
Subsidized Oil and Bonds: The government is likely to issue about Rs1 trillion worth of additional fiscal and oil bonds in FY09 versus FY08. Banks will have to absorb most of these bonds to liquefy their holders who need cash.
Lending Rates to Rise: Unlike in the last few months, one can expect the authorities to allow the banks to charge higher lending rates with pressure on margins and deposit rates now.
Government Capex slowdown: The worst of all is the slowdown in Government's CAPEX plan. Data suggests that around elections, central plan outlay (i.e. total spending by all governments and public sector) in key infrastructure industries miss the budget by about 12% versus a 3% miss in other times. Annual spending growth averages at 3-4% YoY around elections versus near 20% in the rest. This year is likely to be one with a record miss. [Will affect all Capital Goods and Infrastructure Companies which in-turn will affect Manufacturing companies.]
Appreciating Rupee: Every 1% higher Rupee would reduce oil deficit burden by about 0.15% of GDP for crude at around US$120.
Since this was largely an FII driven rally [$40 bn investment between 2003-07], we have to wait for them to stop selling and start BUYING to conquer previous highs and this may not happen immediately, be prepared to HOLD for more than 12 months.
With Inputs from Citi, CSFB and DSPML