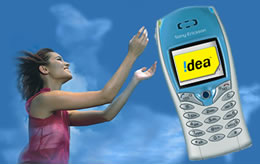 India's sixth largest cellular phone company, Idea Cellular is going public this week. Here is our Analysis and Recommendation for retail investors.
Background:
Idea Cellular was originally a partnership between Tata, Birla and AT&T in 1995. After the exit of AT&T and Tata's A V Birla group was the sole holder. Aditya Birla Nuvo along with other Birla group companies give management control to Kumarmangalam Birla.
Idea currently operates in 8 cellular circles. By just comparing the marketshare in these 8 circles of Idea with peers, Idea ranks at third place with 17.7% behind Bharti Airtel at 20.5% and Reliance Communications at 19.1%. It has launched services in 3 more circles recently and is all set to be a PAN India operator. The company has also applied for a NLD license.
Idea has the lowest ARPU / Month at Rs 335 compared to Rs 438 for Bharti and Rs 354 for RCom. However, RCom has the highest minutes of usage / month / subscriber while Idea lags behind in this as well at 344 minutes. The Indian Telecom industry is expected to witness good growth over the next 4 years and the opportunity lies in areas of low penetration which grew by whopping 81% in the last one year. Idea has a good infrastructure sharing arrangement for cell sites.
Venture Capital & Private Equity Placements:
Idea has done several rounds of VC and PE placements. Telecom India has an excellent coverage of the same.
Financial Ratios:
Idea Cellular has a very high debt to equity at 5.7 at the end of 2006 and is likely to go up further this year. EBDITA margin is at par with peers – 35.10%. EV/Revenues of Airtel's mobile business is at 8.1 while that for Idea it is much lower at 5.8 – A yardstick on how you can major capital intensive businesses like the Telecom.
IPO Offer:
IPO Price Range – Rs 65 to Rs 75 [Don't go by the fact that management did some pre-IPO placement at Rs 75 for directors and Birla family, You all have seen what happened in Cairn Energy IPO]
Issue Size for Retail Investors ~ Rs 750 crore [Inbetween 750 and 800 crore depending on green shoe option]
Fully Diluted Equity Post-IPO ~ Rs 2,600 crore or 260 crore shares of rs 10 each
Idea trades at 15.9x its FY2007E enterprise value (EV)/earnings before interest, depreciation, tax and amortisation and at $423 EV/subscriber compared to $920 for Hutch. Ideas discount is mainly due to its absence of Pan-India presence. CLSA analyst writes that Idea expects to earn a PAT of Rs 419, Rs 805 and Rs 1,000 crore for 2007, 2008 and 2009.
Recommendation:
I expressed my apprehensions about family managed companies which lack transparency due to cross holding and other vested interests but he said that the Indian public loves Birla group and they have full confidence in the management. We recommend investors to subscribe with long-term goals as you never know when the current blood bath will stop.