We have just a while ago received a Fax from OIL India headquarters which has finalized the basis of Allotment for its recently concluded IPO for which we had a SUBSCRIBE recommendation.
Applicants applying for 6 shares have been allotted in the ratio of 25:28. All applicants who applied for more than 6 shares have been allotted on a firm basis as shown in the chart below.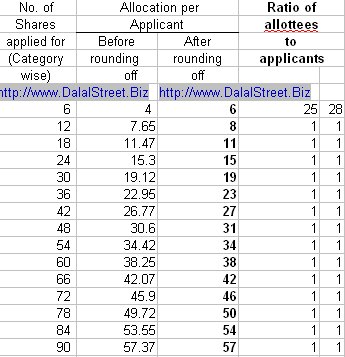 The Grey market Premium has jumped to Rs 40-50 while Kostak Applications were sold in the range of Rs 30 to Rs 35. [We really don't care about this price ;-)] If you are a Long Term Investor [Like us] we will HOLD the stock instead of sellign on LISTING.
OIL India Status of your application can be checked here.