We had recommended SIP investment in Reliance Growth Fund. Though the past 12 months have seen severe volatility, we advise our readers to continue to invest by means of SIP in this fund. After our recommendation, this Fund won the prestigious Lipper Award.
Reliance Growth fund continues to maintain a mixed blend of Mid Caps and Large caps suitable for portfolio growth and is very aggressively managed fund by Sr. Fund Manager, Sunil Singhania.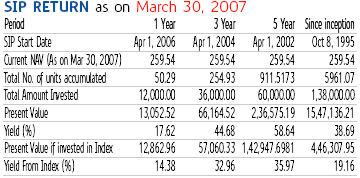 See the SIP returns chart. Since inception, the fund has delivered 38.69% yield against the benchmark returns of mere 19.16%. Happy Investing!!!
Tags: Reliance, Mutual Fund, Lipper, Invest