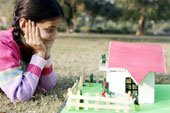 The Real Estate sector under the lobby of Developers and Builders had squeezed the hard-working middle class Indian BUYER with unseen rates in the nation's history. However, as warned by few professional bloggers on the web, it seems to me like Residential Real Estate is a House of Cards which has began to fall.
We were shocked to know that the FALL in Gurgaon is as high as 30%. Several projects are on offer at discounts to developers advertised prices that are as high as 30% the list of developers includes all the usual names, as well as some smaller players. Here is the list of realty projects in Gurgaon selling at a massive discount. All prices in Rs / sq ft

Atlanta by Raheja – Rs6,600 earlier and Rs 4,600 current
Close N.S. by Unitech – Rs4,500 earlier and Rs 3,700 current
Belaire by DLF – Rs7,250 earlier and Rs 6,700 current
Exotica by Parsvnath – Rs6,500 earlier and Rs 4,700 current
Vipul Greens by Vipul – Rs4,000 earlier and Rs 3,800 current
Park View Spa by Bestech – Rs4,500 earlier and Rs 3,450 current
Another Evidence of Real Estate Slowdown is the Disbursment of Loans. Housing loan lenders – HDFC and ICICI Bank have witnessed a very sharp decline as evident from the graph below.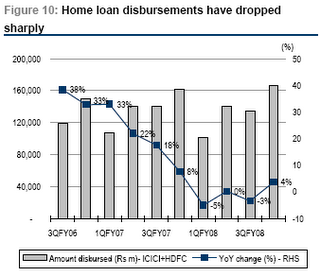 Distress Selling in Indian Real Estate Soon ?
Adding to Land Shark's woes is rising commodity prices and funding problems. They are finding it increasingly difficult to raise funds. Stories of developers deferring their plans to raise equity financing are heard with increasing frequency, as market interest in the sector has dwindled. Hopefully we will see some sort of liquidation if not distresses selling very soon.