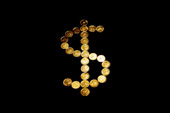 The Finance Ministry today relaxed norms on external commercial borrowings(ECBs). There were three distinct strands on which norms were relaxed. Limits on borrowings by companies for rupee expenditure was raised from USD 20 million to USD 50 million. Companies in the infrastructure sector can however raise USD 100 million. The USD 500 million per company per year limit under the Automatic Route was kept unchanged.
Although the relaxation of the ECB norms will incrementally lead to greater dollar inflows, we do not think there will be a large increase. Companies are currently not facing significant constraints on debt financing but more on equity financing. Second, credit market conditions externally are not as favourable as last year and lastly, there are increasing questions on the growth outlook of Indian companies.
We think that the outlook on the rupee is still bearish as the relaxation in ECB
norms does not compensate for the rising current account deficit. We welcome the increase in ceilings on FII investments in government and corporate bonds, it may not be an attractive investment route at present, given India's high fiscal deficit, which we expect may worsen to north of 7% of GDP in FY09 from 5.7% of GDP in the previous year.