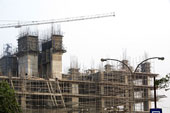 Kotak has initiated coverage on SREI Infrastructure Finance and Patel Engineering with a BUY rating.
SREI Infrastructure Finance:
Srei caters to SME project developers. SREI as an NBFC has created a niche for itself in the infrastructure financing segment. This has helped Srei in capturing a share of around 30% of the infrastructure equipment financing space. Recently, SREI sold its asset financing business to a 50:50 JV with BNP Paribas which will help ramp up its other businesses.
Following the Government's thrust on infrastructure development, demand for construction equipment is expected to increase fivefold by 2015 from the current US$2.3 bn to about US$12-13 bn. Around 85-90% of the SREI's orders are repeat orders, which has helped the company create a niche for itself.
In the JV, BNP Paribas has invested Rs.7.8 bn while Srei has invested close to Rs.250 mn – SREI Infrastructure Development Finance. The new JV has commenced its operations from April 2008. With the 50% holding in the JV, Srei (the parent company) would get additional funds worth Rs.4 bn to capitalize on.
SREI is expected to report an EPS of Rs 11.5 and Rs 16.4 for FY09 and FY10 respectively. Kotak recommends a BUY with a target price of Rs 200.
Patel Engineering:
Patel Engineering's Order inflow has been fairly robust. In a unique business model, company is protected against significant increase in the commodity prices since it gets raw materials from its clients in most of its contracts. However, expect the volatility in realty market to impact Patel Engineering to some extent.
Patel engineering has an order book close to Rs 60bn and company is L1 in another Rs 10bn worth of orders. Bulk of the order book is comprised of hydro power related projects (58-59%), followed by irrigation (17-18%) and remaining is spread across transportation and micro-tunnelling.
Hydro Power project in Arunachal and Thermal power project in Gujarat are still on drawing board though MoUs have been signed. Patel engineering has a land bank of 1000 acres and is currently carrying out development work in Mumbai, Hyderabad and Bangalore for its first phase. The Corporate IT Park in Mumbai will open for business in next month.
Based on the sum of the parts valuation:
Core business valuation 386
Subsidiary valuation 14
Land valuation 327
Kotak has set a target price of Rs 727 for Patel Engineering.