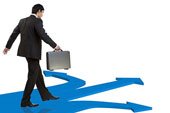 I thought of sharing this Contrarian Views on Indian IT Export Oriented Companies – Infosys Technologies, Wipro, TCS, Satyam, and HCL Technologies as released by Edelweiss Research. The environment is still difficult and any optimism on guidance outperformance that investors may have had in the middle of Q1FY08 has tempered, we see select Indian companies doing well reiterating their FY09 guidance after a not too enthusing Q1FY09.
Optimists View:
FY10 could be a good year in terms of volumes even if incremental pricing trends downwards. This is because the slowdown is forcing offshore outsourcing. But delays and longer-than-usual deliberations in deal closure will mean that the bulk of what the slowdown will induce by way of outsourcing may not accrue in FY09 as much as in FY10. Moreover, companies across verticals will see this as a priority in their FY10 plans, given that they have already begun drawing/have drawn the contours of the impact the slowdown will exert on them. Thus, expect a broad-based thrust as regards offshore outsourcing beginning FY10 even though incremental pricing may not hold as steady.
Pessimists Views:
The broader economic slowdown in the US could affect more than just the BFSI and retail sectors. Not only is the slowdown likely to be protracted, but with its broader impact, it can affect decision-making on tech spending across verticals. In such an evolving scenario, it becomes appropriate to draw a contrast with the earlier tech/telecom bust in 2001-02, which seemed shorter and more incisive. Then, there were excesses in the information technology industry which unwound (dotcom segment, e-commerce spending, and "bubble" spending in the telecom vertical). The slowdown was a direct consequence of the collapse of such sub-segments. It was swift and severe and the good aspect was that investors could look ahead no later than four quarters. It is worth pointing that Infosys's quarterly momentum slowed down for five quarters in succession (beginning Q4FY01 through Q4FY02) registering five quarter revenue CQGR of about 5%, before picking up again in Q1FY03 (12.4% revenue growth Q-o-Q over Q4FY02). Today, the situation, according to a growing number of observers/analysts (e.g. Forrester), is different as many believe the slowdown to be prolonged. That is bad news for Indian IT firms as far as FY10 goes.