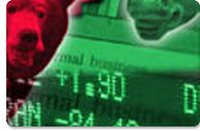 In the last two trading sessions, the benchmark BSE Sensex has plunged by more than 1,200 points on massive unloading by beleaguered foreign institutional investors, as the financial crisis spread to Europe. Indian Real Estate saga built on paper foundation has collapsed and all the realty stocks hit a new low today. Taking the plunge were most core sector stocks as well – Reliance Infrastructure, Tata Steel, Tata Power, Reliance Industries, BHEL, ACC and Larsen & Toubro.
Indian Realty Stocks which hit a new low on Sept-18th made fresh lows again today.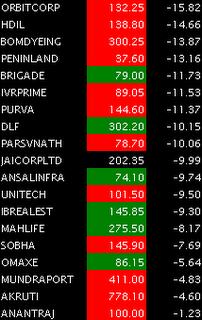 NSE Nifty has just survived at the tip of 200 Week Moving average of 3,600. Our Analyst has an in depth coverage on how the bears are likely to hug the market over the next 24 months. BNP Paribas in a report released just a while ago has put an under-perform rating on India with SENSEX target of 9,746.