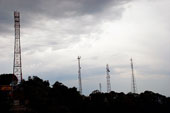 Jaiprakash Associates [JP] has emerged as the lowest bidder for 1.32GW Karchana project with tariff of Rs2.97/kWh beating Adani Power by just 1 paise. JP's levelised tariff is healthy – Rs2.97 (plus tax) v/s two earlier lowest bids rejected by the UPPCL in April (Lanco Rs2.83) and Jun '08 (Reliance 2.64).
As the project is won through competitive bidding under case-2 guidelines of the Govt. of India, Sangam Thermal Power Project (STPP) at Karchana will have support to secure land, environment and water clearances. STPP has secured low cost coal (US$26/tn) linkage of 4.68MTPA for 1.32GW
UP is the 3rd most power deficit state in India with shortage of 2.5GW in FY08A. Five discoms of UP have committed to buy 90% capacity and to enable JP to avail benefits of mega power policy.
Commissioning schedule for STPP is 59 months from LoI. MLe that majority of Rs30bn (70:30 D/E) equity will be needed during FY11-14E. If successful, this project adds Rs13 to SOTP and takes JP's power capacity +28% to 9GW (7GW equity). Given RoE of 23.5%, we believe funding should be feasible.
One must also note that the DareDevil Promoter Family – Jaiprakash Gaur has exercised warrants at Rs 397 / share when the market price was mere Rs 80. They still have more warrants to be exercised and if they do, investors can consider adding JP Associated to their portfolio as its Sum of the Parts Valuation is around Rs 300.