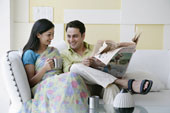 Despite the slowing economy, Jagran Prakashan has demonstrated benefits of market leadership and conservative management in a downturn by posting 18% YoY revenue growth in 2Q.
Jagran reported Q2 FY09 revenue growth of 18%YoY to Rs2.1bn as a 25% growth in local advertising helped it counter slowing growth in national advertising. Company has also said that October was the strongest month on record. Jagran is also benefiting from a 25% hike in Government ad rates (12% of ad revenues) and expects that with general elections round the corner, government ads contribution will rise further. In the past 8 years, print ad revenue growth was slowest in FY03 at 6% and for Jagran at 17% in FY05.
Jagran Prakashan is expected to report an EPS of Rs 3.5 for FY09 and Rs 4.35 for FY10. A strong franchise, current state elections and general elections in Q4 and a conservative management with a balance sheet support makes the stock an outperformer. Conesnus target estimates for the stock is Rs 72.
Why is Jagran Prakashan not in BSE 200 ?
Since ages we all know how BSE has been functioning and how members influence the inclusion of stock in the index. We quickly ran through the BSE-200 and found companies with absolutely no business model or too new into business – Bajaj Holdings and Investments, Indiabulls Real Estate, Jai Corp, RNRL, Reliance Power occupying slots which could be made way for rock solid businesses like Jagran Prakashan.
Jagran has doubled its Sales every 3 years in the past and has always been a profitable company. Jagran has the largest market share of newsprint in India and is the highest read daily in the world [Dainink Jagran – 16.29 mn copies read everyday, Dainik Bhaskar – 13 mn copies read everyday]. Jagran hosts the World's Largest Hindi Portal in association with Yahoo!.
It is not just our politicians who are shady but folks in the BSE are as well, tuning and twisting laws favorable to vested interest members.