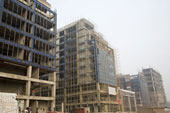 The Tata Steel group delivered strong results in 1HFY09, due to stronger price realizations across all geographies, higher volumes in India and Southeast Asia, and performance improvements. Tata Steel consolidated PAT for 2QFY09 was Rs48bn. Adjusting for extraordinary items, PAT would be Rs51bn, +180% yoy. EBITDA margins rose 440bps to 18.9% and EBITDA grew 78% to Rs83bn. 2Q also benefited from a 40% decline in interest expense and strong operational performance across regions. Group total volumes were flat yoy at 7.9m tonnes.
From their peaks in July 2008, global steel prices have corrected as much as 50%, with much of the decline occurring in the past two months. Prices have fallen further and faster than we expected (our forecasts were for a 25% decline through calendar 1Q09), and we have lowered our price expectations for FY09-11 by 7-23%.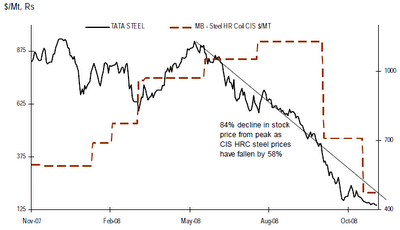 Across the board Analysts are expecting Tata Steel to report an EPS of Rs 140 for FY09 which will decline to Rs 36 to Rs 38 in FY10 due to softening Steel prices across the World.
Citi has a Sell/High Risk (3H) recommendation to factor in an extended global slowdown, weaker steel prices in Europe and India, lower volumes and weaker margins. Citi has set a Target price of Rs 130 while RBS has set a target price of Rs 115. JP Morgan has a target price of Rs 155. Any fresh exposure should be avoided.