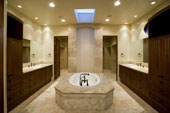 HSIL is a market leader in sanitaryware with a 40% market share and second largest player in container glass products in India both contributing equally to the top line. The sanitaryware market in India has grown rapidly during the last 5-6 years, with key players doubling their production capacities. India has emerged as a major bath and sanitaryware market in the Asia-Pacific region. The cost of producing sanitaryware in India is substantially lower as compared to developed countries.

End-to-end service module helps HSIL remain ahead of competition. HSIL has launched the EVOK brand of specialty home fashion mega stores to provide a range of more than 12,500 home interior products under one roof in May 2008 through its wholly owned subsidiary Hindware Home Retail.
Going ahead, Capacity expansion in the container glass segment to drive growth backed by Growing food processing industry and rural consumption.
Financials:
HSIL reported a consolidated topline of Rs. 615.8 cr in FY09, registering a growth of 18.2% despite the economic slowdown. Operating margins expanded by 70 bps to 15.7%. PBIT margins increased from 15.7% in FY08 to 16.1% in FY09 in the Building products segment. Also, PBIT margins increased from 7.2% to 9.9% in the Container glass segment.
Expect HSIL to report topline growth of 20.2% and 23.7% in FY10 and FY11 respectively on the back of an enhanced product portfolio, increased demand and capacity utilization, increased reach via its EVOK outlets and new product launches. EBIDTA margins could stabilize in the 17-18% range.
At the current market price of Rs. 61.25, HSIL is trading at 8.2x its FY11 (E) EPS of Rs. 7.5. Based on a valuation of 10x forward earnings, a target price of Rs. 75 looks reasonable to this market leader. ADD or BUY on Correction or HOLD if invested.