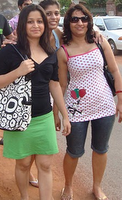 Kewal Kiran Clothing Limited (KKCL) today is amongst the few large branded apparel manufacturers in India. KKCL brands brands range from the high fashion premium segment such as 'Killer' for denim wear and 'Easies' for casual wear to the middle and economy segments through brands such as 'Lawman' and 'Integriti'.
The company has constantly introduced new fits, finishes and fabrics. The company's own R & D team working closely with designers is constantly innovating, creating an exciting array of product lines in a variety of fabrics, washes and cuts, using the latest in technology and processes. Fashion with Quality is the cornerstone of each collection introduced by the company. KKCL has recently entered the women's and accessories segment.
KKCL has Strong distribution network and marketing set up and will ride the Growth in organized retail and shift in demographics. Capacity expansion to drive growth in FY11.
Financial and Investment Case:
KKCL follows prudent financial management practices. This is reflected in its high cash balance, preference for a franchisee business model, conservative ad spend (10-12% of sales), write off of part of investment in White Knitwear and low debt to equity. In the recent slowdown, KKCL was impacted to a lesser degree. In FY09, KKCL reported net sales of Rs. 144.6 cr, down 9.4% y-o-y. Operating margins fell by about 500 bps y-o-y to 13.9%.
In Q2FY10 and H1FY10, KKCL produced 8,60,000 pieces and 14,22,000 pieces
respectively, representing a volume growth of 7% y-o-y. However, topline grew by 18.7% in Q2FY10 to Rs. 57.3 cr and 19.6% in H1FY10 to Rs. 90.4 cr due to an increase in price realizations.
Expect KKCL to report topline growth of 22.4% and 18.4% in FY10 and FY11 respectively. This translates into a topline of Rs. 177 cr and Rs. 209.5 cr in FY10 and FY11 respectively. KKCL is expected to report an EPS of Rs. 25.1 and Rs. 28.4 for FY10 and FY11.
HDFC Sec in its recommendation on Kewal Kiran Clothing says,
The stock can be bought at the current market price and added on declines to the Rs. 217-234 price band for a price target of Rs. 299 in 6 months.
Related Reading:
You can read a complete interview of Kewl Chand Jain, MD of Kewal Kiran Clothing.