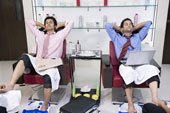 Emami has launched Emami Fair And Handsome – a fairness cream for men in a new sachet format for Rs5. Fair And Handsome is a market leader in the men's fairness cream market.
Nestle India has launched Polo Xtra Strong, an innovation on its existing brand, Polo, with added menthol crystals. This is available in singles format priced at 50 paise.
Avesta Good Earth Foods, a subsidiary of Avesthagen, launched Good Earth Whole Wheat Crackers, enriched with Teestar, a proprietary ingredient that reduces blood glucose levels. Priced at Rs32 for a 100g pack.