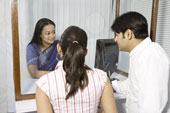 Punjab National Bank's total business grew by 21% to Rs2860 bn on the back of 19% growth in deposits and 24% growth in advances, sequentially deposits grew by 9.1% and advances grew by 18%.
PNB's reported NIM reduced by 41 basis points to 3.66% from 4.07% in 4QFY07 mainly due to deposits cost pressure, though the bank managed to hold the reduction in NIM by increasing credit-deposit ratio by 272 bps and increasing exposure to SME and retail sectors. Core operating performance was much better with other income and reduced operating expenses [33% (Y-o-Y) drop in employees' expenses] led to 2.3 times jump in bottomline.
In percentage terms, GNPA and NNPA decreased to 2.7% and 0.6% from 3.4% and 0.8% respectively. EPS for FY08 was at Rs 65. The bank is expected to take significant hit on bottomline the current year due to NPAs, Agricultural Loans and Inflationary pressure.