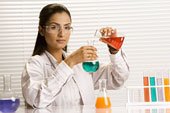 Divis Labs Ltd (DLL) reported revenues of Rs2.8 bn. EBITDA margins at 41% were significantly higher and PAT was Rs 927 mn.
CRAMS and generics comprise around 50% of business. There were no one-time large orders registered this quarter. Thus, revenue line is likely to be maintained for the next few quarters.
Divis nutraceuticals plant which was commissioned in June 2008 and FY2009 will see the first year of revenues from this business.Sales is expected to grow by 48% and 40% in FY09 and FY10. Fully diluted EPS could be in the range of Rs 76 to Rs 80 for FY09.