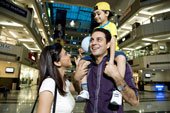 Inox Leisure reported a subdued topline growth for 4QFY2008 of 18.4% yoy to Rs39.3cr (Rs33.2cr) as lower Occupancy (4Q is a seasonally weak quarter) led to a muted 13.4% yoy growth in Footfall. The numbers are strictly comparable because of the inclusion of Calcutta Cine Pvt Ltd in this quarter. For FY2008, Inox registered 30.6% yoy growth in Revenues to Rs185cr (Rs141cr) driven by addition of property leading to a 35% jump in footfalls.
Operating Margins: Inox delivered a dismal performance for the quarter registering a 790bp decline in Operating Margin to 10% (17.9%) largely owing to a sharp 782bp increase in Other expenditure and 287bp rise in Staff costs owing to a lower revenue base.
At the end of March-08, Inox had 76 screens and 23,199 seats under operation. Inox will add – Faridabad (four screens with 1,108 seats) and Nagpur (four screens with 1,214 seats) taking its total tally to 84 screens.
Compared to Inox, PVR delivered much better results.