Iron ore export tax drags down Sesa Goa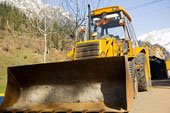 The Indian government announced the much anticipated iron ore export tax of 15%, putting an end to a long period of uncertainty on this front. This was due for long time to contain inflation. We continue to hold a constructive view on iron ore sector fundamentals, and would view any weakness in stock price on the back of this news or due to weakness in Chinese iron ore spot prices as a buying opportunity.
Sesa Goa was trading down by 2% at Rs 3,660 compared to its cum-bonus high of Rs 4,320 in the first week of May-08.