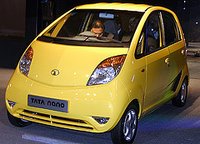 This is truly amazing, the Indian Auto sector didn't witness the expected slowdown despite rising Inflation and Interest rates on Automobile Loans. Two wheeler sales of the three majors were impressive (up +10% Y/Y). Motorcycle sales were also strong (+12% YoY) in the backdrop of low base last year and strong performance by 125cc bikes. However, for CY2009, managements have cautioned single digit sales growth.
Maruti Udyog reported muted sales due to stiff base effect and a slowdown in the key compact segment. Swift sales were robust (+42% Y/Y), excluding Swift A2 segment declined 6% Y/Y. Dezire volumes remained robust which aided growth in the A3 segment. Inventory levels saw very slight increase at dealers end.
M&M June sales rose 13% YoY driven by a strong growth in tractor sales (+19% YoY) and decent growth in UV sales (+7% YoY) albeit a low base. Scorpio sales (+1% YoY) were muted while non-Scorpio sales (+9% YoY) continued to show decent growth.