We decided to run a Status Check of the Home Loan Market in India and found that the Growth Rate market has been continuously declining in the past 6 quarters. YoY Growth peaked in Q2 FY07 to a whopping 80% and fell for the next 2 quarters to touch 25% in Q1 FY08 and saw a momentary rise to 32% in Q2 FY08 and since then began its downward journey and is now recording a growth of mere 10% YoY. The following Chart shows the Home Loan Outstanding Vs Growth in Home Loan Disbursal.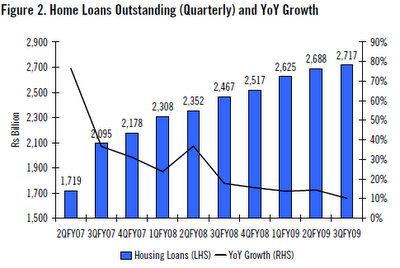 Home Loan Lending Data for the Past 2 Months:
Top 5 Banks are as follows – No of Loan Accounts + Amount in Rs mn
SBI & Associates 6,970 2,605.7
Oriental Bank of Commerce 993 375.9
Syndicate Bank 1,528 336.8
Union Bank of India 1,228 301.5
Bank of Baroda 710 255.7
India Real Estate has mentioned from various research reports that the Realty market in India is headed for a deeper and longer correction. Historically, it is proved that Equity is a better investment over Real Estate as proved by Kotak Research.