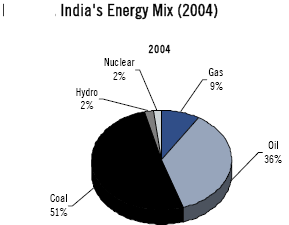 Key notes from the energy / oil / gas conference held in New Delhi.
The demand-supply gap in gas is likely to narrow sharply in the next few years. India's energy mix looks set to change toward being more gas dependent, albeit marginally. Increasing gas supplies should lead to a quantum jump in cities under the CGD umbrella.
The evolving regulatory environment should facilitate growth in the sector.
We see that India's dependence on oil is set to fall to 29% in the next 2 decades while dependence on Gas and Nuclear Energy will increase.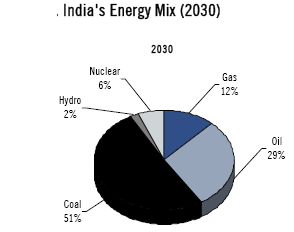 In fact, India's expected dependence at 6% on Nuclear Energy in 2030 is higher than the global average of 5%. Estimated total gas demand in the economy to increase to ~280mmscmd by FY12E (~180 currently), while new and existing domestic supplies would increase to ~150mmscmd.
Apart from this, India will also lay 8,400 Kms of Gas pipeline at an estimated cost of $ 6 Billion. Most of this will be undertaken by GAIL and RIL.
If you are holding RIL, then just hold the stock tight for few more years or maybe another decade 🙂