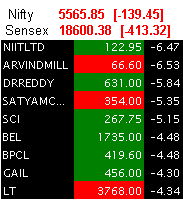 The Blood Bath in the Indian markets in-line with global stocks should be considered as an opportunity to BUY & HOLD fundamentally good stocks. Nothing has changed in the Indian economy in the past week except Inflation figure, which was higher @ 3.79. Foreign Institutions are booking profits in emerging markets to set off their losses in the sub-prime fiasco.
There is selling across the board with Small-CAP and Mid-CAP being the worst affected. All the Realty Stocks are in deep red and kindly stay away from this sector as we consider it risky bet in short to medium term.IT stocks appear lucrative with strong cash flows, but there is no clarity on the end of tax waiver period. A Good bet for Long Term.
If you invest in mutual funds, this is the best time to start investing in them. If you have not already invested Rs 100,000 in Tax Saver Funds to avail the benefits of Section 80, go ahead and start picking up today.