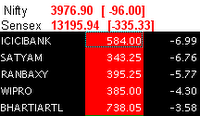 If you are a regular reader here, you may have noticed that we didn't put out any recommendation to BUY in the past 15 days but had recommended to book profits on rally. Just when everybody thought the worst was over, Frean and Panic has gripped Global Markets with Lehman filing for bankruptcy.
ICICI Bank has exposure of about USD80mn to Lehman Brothers in form of senior debt. This has triggered a fresh round of SELL of in the Indian market though domestic Institutions are BUYING. As Lehman goes under liquidation and the restructuring plan gets filed, the senior debt holders get the money first. We are not sure how the legislation works in US on bankruptcy but the ICICI Bank Plc, UK which has the exposure may get probably 50-60 cents a dollar as a senior debt holder. So roughly Rs1.1-1.5bn may have to be written off depending on the exchange rate.
You already know how good ICICI as a bank is and we do have regrets that two fo the mutual funds we recommend HDFC Top 200 and HDFC Equity have exposure to this bank. However, we cannot ask the Fund Managers to SELL Off but it does raise suspicion about their internal process on how the bank made it to the BUY list.
Update:
ICICI Bank's London subsidiary may have to take additional woes – mark to market hits during 2QFY09 owing to the expansion in credit spreads in the past week. The hit could be as wide as 1-5% of the total portfolio (US$5bn) implying US$100mn to +US$250mn. This would be in the London subsidiary – it can be construed as a hit on ICICI Banks' book value (Rs5-8/shr)